Today's post is by Caroline Alberoni of Alberoni Translations. She lives in Brazil, and as you will know after reading her post she is passionate about translation! For more about Caroline, follow her blog, and for more about her business, check out her website. 
I usually like to think that, for me, everything started back when I was 12 and my mom decided to enroll me on a private English language course. In Brazil, English as a second language is taught at school, but it is quite weak, just the basics, so we have to seek more advanced learning in private language schools.
This was when I was properly introduced to English.
When I was 14, I had the chance to visit an aunt that lives in Sweden. I spent three months there during the winter (summer vacation here in Brazil). Besides having had to practice what I had learnt so far in order to walk around the city by myself (since I don't speak Swedish, I had to make do with English), my aunt paid a tutor to give me some private English lessons.
This was when I started to enjoy English.
I returned to Brazil and to my English course. However, it was difficult for my mom to keep paying for it, so she decided to ask if the school's director needed any help, so that I could help out and receive a discount in return. The director said I could help the teachers at the lab. I helped the kids with their homework. About a year later, I was invited to start teaching.
This was when I fell in love with English.
When I had to choose a major, the only thing I knew was that I loved English, but I had no clue what course I would choose. While flipping through a career guide, I came across something related to translation.
This was love at first sight with translation.
On Tammy's post On Country Music and Career Warnings, she talked about people who usually warn others against a certain profession – teaching, in her case. In my case, it was the opposite – sort of. The translation courses here in Brazil are usually related to the teaching ones, and translation is not a widely known profession, so people would normally frown when I used to say my major was in translation or when I say I'm a translator. It was the same with my family. My mom gave me full support, but an aunt wanted me to go for teaching.
Time gap
In Brazil, there are public schools and private schools. We also have a test for those who want to go to university. Since public schools are really poor (in all aspects), rarely do public school students pass the test. Regarding universities, it's the opposite: public ones are usually better than private ones, therefore, difficult to get into. It wasn't different with me. When it happens, you either chose a private one or study really hard at special schools that prepare for this test. That's what I did – for two years.
But before that…
Since I did not pass the test when I finished high school, that aunt that invited me to visit her in Sweden was moving to England, had a baby and invited me to work as an au pair for her there. I had nothing to lose, so I accepted her invitation. I spent seven months in Cambridge working and studying more English – I was able to take two English courses and a couple of proficiency tests (IELTS and CAE).
This was when I fell in love with England.
I went back to Brazil, studied a lot and ended up passing the university test and majoring in translation. The following year, I was accepted at the University of Surrey, Guildford, England, as a Translation Studies with Intercultural Communication MA student. It was one year full of learning, experience and love.
Back in Brazil, I started looking for a job. I wanted to work as a freelance translator, but I knew I first had to find clients, so I was accepting anything related to languages. However, I was lucky enough to come across a translation agency that was looking for freelance translators. I started working for them. They sent me enough work to make a living, so I worked exclusively with them for almost two years. During this time, I built a presence on social media, read a lot, learned a lot, and started looking for other clients.
So this is my story, why I became a linguapreneur – in my case, a translator. And I plan on continuing that path because I can't picture myself doing anything else. I love English, I love translation and I love working as a freelance and running my own business.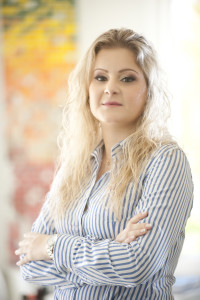 Caroline always shares useful and interesting resources on social media. You can find Alberoni Translations on Facebook and Twitter